NXT-ID, Inc. - (NASDAQ: NXTD) - January 6, 2016




NXT-ID, Inc News - SoundView Technology Group Issues NXT-ID (NXTD) Update; New Growth via Partnerships


"Our IV changes are detailed below but our new IV of $6.13 suggests large reward versus the risk reflected in the current share price."


BOSTON, January 5, 2016 /PRNewswire/ - SoundView Technology Group (http://soundview.co) releases the following market and company update for

NXT-ID, Inc. (NASDAQ: NXTD) .

Market & Company Update - New Growth via Partnerships

In the course of selling Wockets directly to consumers via the their website (wocketwallet.com) and using specialized channels it's become clear that achieving large volumes and scale will come much faster using a B2B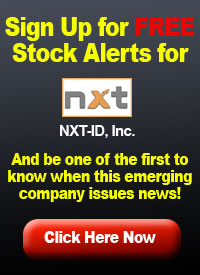 approach. Our first example is a new development and distribution agreement with a travel-focused company called WorldVentures.1 (

Read the full story below)

This has major advantages for NXTD investors. The company can focus on what they do best which is technology and product development and leverage large value-added industry channels like WorldVentures for customization and distribution.

The impact on numbers is dramatic - although the company will fall well short of our 40K unit estimate for 2015 they will greatly exceed our current 120K estimate for 2016. If all goes as planned NXT-ID will "pull forward" our volume forecast by about two years. Additional partnerships like the one with WorldVenturs are targeted for other consumer-oriented markets.

The "shift" to EMV or "chip cards" has muddied the waters in the payment space and made it more difficult for early Wocket customers to enjoy a high level of acceptance. Nearly every major retailer has adopted a slightly different method of dealing with the situation - some have turned off EMV, others support both EMV and traditional swipe, others see the mess as a good excuse to go "all the way" with NFC and mobile payments.

For NXT-ID that means rolling out an NFC-based version of the Wocket which will allow consumers to enjoy broad acceptance of their Wocket card and simpler use at the point of sale. The testing and acceptance process with the major issuers takes time so we're not expecting a new version on the market until 1H2016 but we fully expect the card payment space to remain in a state of flux through that time period. Meanwhile NXT-ID will have plenty to focus on in terms of delivering against their new deal with WorldVentures.

Our IV changes are detailed below but our new IV of $6.13 suggests large reward versus the risk reflected in the current share price. If NXT-ID were a private company doing a venture round the valuation would be at least 10x the current share price.

Link to the full report:

http://s3.amazonaws.com/PUBLISHED/NXT-ID_NXTD_SV_NOTE_JAN_2016.pdf

Past reports and related research can be found on our website at http://soundview.co/infosec.

Editor's Note: This article covers one or more stocks trading at less than $1 per share and/or with less than a $100 million market cap. Please be aware of the risks associated with these stocks.

Disclosures

SoundView serves as a strategic advisor to NXT-ID and provides this research note for informational purposes only. SoundView does not have "ratings" and is not an investment bank, broker/dealer or registered investment advisor. We've undertaken to research all facts presented here but can make no promises that they are correct or that our reasoning and supporting intrinsic valuation model is an accurate depiction of the future. SoundView employees may have positions in stocks they work on however at the time of this writing we are not aware of any outstanding positions in the shares of NXT-ID.

About NXT- ID Inc. - Mobile Security for a Mobile World: (NXTD)
http://www.wocketwallet.com/
http://www.nxt-id.com/
http: //3d-id.net/


Contact:
Kris Tuttle
SoundView Technology Group
kris@soundview.co
+1-617-828-6462


SOURCE SoundView Technology Group

WorldVentures and Nxt-ID Form Strategic Alliance to Create Next Generation Smart Card


- New innovation will allow WorldVentures DreamTrips™ Members to earn restaurant points towards free vacations.

- WorldVentures users to experience more convenient, more secure way to travel with one smart card.

- First iteration of concept to be introduced at the WorldVentures UNITED annual conference in Orlando, Jan. 15-17.


OXFORD, Conn., /PRNewswire/ --

NXT-ID, Inc. (NASDAQ: NXTD) -

(WorldVentures®, a privately held leading direct seller of vacation and entertainment club memberships and Inc. 5000 fastest-growing company, today announced that it has reached a definitive agreement with Connecticut-based Nxt-ID, Inc. (NASDAQ: NXTD), a company focused on the growing m-commerce market.

The agreement calls for WorldVentures to make a strategic investment of $2 million in Nxt-ID to develop a proprietary new wireless smart card for its members-numbering in the several hundreds of thousands worldwide-based on Nxt-ID's Wocket®, a unique smart wallet that serves to securely store all credit cards. The smart card will be customized with additional technologies and wireless features, such as the ability to seamlessly integrate with WorldVentures's DreamTrips App to wirelessly check in and earn loyalty points towards free DreamTrips vacations at select restaurants. DreamTrips is a travel club and entertainment community where Members enjoy exciting excursions year-round to extraordinary destinations.

The agreement also provides that upon completion of development, the card will be sold exclusively to WorldVentures to be distributed and made available to its Members.

In addition, the agreement provides for ongoing enhancement of the smart card with new product innovations already in development. Enhanced Next-ID technology is intended to: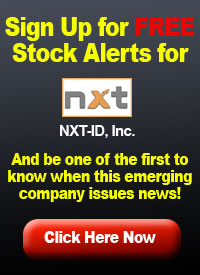 - Replace all cards in the user's wallet

- Store hundreds of credit cards, loyalty cards, records and other data, and be used virtually anywhere payment can be made with a credit card
- Offers added identity protection for increased peace of mind while traveling
- Allow Members to earn points at select restaurants worldwide that can be used towards DreamTrips vacations
- Foster social interactive engagement with DreamTrips Members worldwide through its wireless App and card communication features

The strategic alliance supports WorldVentures's mission to help its Independent Representatives and DreamTrips Members get more fun, freedom and fulfillment in their lives. "In this high-tech, hyper-connected world, we are enabling people to use technology in a more powerful and compelling way," said Wayne Nugent, World Ventures Co-founder and Chief Visionary Officer. "And our Independent Representatives will be able to bring this exciting new innovation to travelers all over the world, making their experiences richer, safer, and more engaging and rewarding."

WorldVentures fosters an environment where independent-minded entrepreneurs can build their own businesses, set their own direction and make a living…living!® The customized smart card is the first of many innovations that will help them do that. "This is only the beginning," said Dan Stammen, WorldVentures Chief Executive Officer. "Our collaboration with the Nxt-ID executive and technology teams not only sets WorldVentures apart in the direct selling industry, but will allow us to develop the most technologically advanced human networking interactions through new products while continuously enhancing our current product set."

Nxt-ID President and Chief Executive Officer Gino Pereira says, "We are tremendously excited about our strategic partnership with WorldVentures. This is a great example of the type of partnership that we are seeking in order to leverage our unique technologies. WorldVentures has an extraordinarily successful distribution model and a very talented and inspirational management team."

WorldVentures will introduce the concept at its UNITED annual conference Jan. 15-17, 2016 in Orlando, Fla. "This year marks our company's 10th anniversary," muses Nugent, "and as we enter into the next decade it is no longer as a direct marketing organization, but as a technology company that uses direct marketing to bring exciting innovations, business opportunities and one-of-a-kind experiences to our members worldwide."

About WorldVentures

WorldVentures is the leading international direct seller of vacation club memberships and helps people achieve more fun, freedom and fulfillment by offering DreamTrips Memberships, which include unique vacations at reduced prices. WorldVentures is a privately held company based in Plano, Texas, with active Representatives and Members in 28 countries. http://worldventures.com

About Nxt-ID, Inc.

Nxt-ID, Inc. is focused on the growing m-commerce market, launching its innovative MobileBio suite of biometric solutions that secure consumers' mobile platforms led by Wocket, a next generation smart wallet designed to replace all the cards in your wallet.

http://wocketwallet.com

http://nxt-id.com/

Forward-Looking Statements for NXT-ID: This press release contains forward-looking statements within the meaning of the Private Securities Litigation Reform Act of 1995. Forward-looking statements reflect management's current expectations, as of the date of this press release, and involve certain risks and uncertainties. Forward-looking statements include statements herein with respect to the successful execution of the Company's business strategy. The Company's actual results could differ materially from those anticipated in these forward-looking statements as a result of various factors. Such risks and uncertainties include, among other things, our ability to establish and maintain the proprietary nature of our technology through the patent process, as well as our ability to possibly license from others patents and patent applications necessary to develop products; the availability of financing; the Company's ability to implement its long range business plan for various applications of its technology; the Company's ability to enter into agreements with any necessary marketing and/or distribution partners; the impact of competition, the obtaining and maintenance of any necessary regulatory clearances applicable to applications of the Company's technology; and management of growth and other risks and uncertainties that may be detailed from time to time in the Company's reports filed with the Securities and Exchange Commission.

Media Contact, WorldVentures:
Connie Glover
Manager, Public Relations
World Ventures Holdings, LLC
c: +1-214-726-2567
cglover@worldventures.com

Media Contact, Nxt-ID, Inc.:
D. Van Zant
+1-800-665-0411
press@nxt-id.com

SOURCE NXT-ID, Inc.
About NXT-ID, Inc.
The founders of Nxt-ID have been involved in advanced biometric and security technology development for leading organizations within government and the corporate sector. The company, which was founded in 2011, has established an impressive portfolio of technology patents and biometric security solutions for corporations, government agencies and consumers.

With extensive experience in identity verification and encryption, Nxt-ID has developed advanced technologies for the capture, analysis and authentication of individual's identities. With a particular focus on the growing mobile space, Nxt-ID offers innovative verification solutions with its MobileBio™ products.

In 2013, Nxt-ID launched Wocket®, its next generation smart wallet. Designed to protect the identity of users, it eliminates nearly all the physical cards in a wallet without needing a smart phone or internet connection. In addition to passwords and private notes, virtually any credit, debit, membership gift or loyalty card in a wallet today can be loaded and protected on Wocket. The included WocketCard works virtually anywhere magnetic stripe cards are accepted today and can only be used with the owner's biometric (voice) stamp of approval or with a PIN. The Wocket can be stylishly accessorized to meet the taste and lifestyle of users, making it a true replacement for the conventional wallet.
---------------------------------------------------------------------------------
Corporate Profile

NXT-ID Inc is a United States-based company that provides security solutions to mobile devices. Our innovative MobileBio® solution mitigates consumer risks associated with mobile computing, m-commerce and smart OS-enabled devices. The company is focused on the growing m-commerce market, launching its innovative MobileBio® suite of biometric solutions that secure consumers' mobile platforms led by the Wocket™ ; a next generation smart wallet designed to replace all the cards in your wallet, no smart phone required. The Wocket works anywhere credit cards are accepted and only works with your biometric stamp of approval. http://www.wocketwallet.com/
PRODUCTS
Wocket®, by NXT-ID, is a next generation smart wallet. Designed to protect your identity and replace all the cards in your wallet without needing a smart phone or internet connection, Wocket can be stylishly accessorized to meet your taste and lifestyle. The included WocketCard works virtually anywhere credit cards are accepted and can only be used with your biometric (voice) stamp of approval. Virtually any card in your wallet today can be protected with Wocket.

Learn more about Wocket®
www.wocketwallet.com
-------------------------------------------------------------------
3D-ID provides visual solutions to effectively solve issues that cannot be addressed in a conventional two-dimensional format.

The need for domestic and commercial security has increased dramatically over the last decade. Offices, hospitals, prisons and other areas receive thousands of visitors each day. 3D-ID provides access control through biometric facial analysis and provides confidence that only authorized personnel are admitted.

The modern warfighter needs tools that give tactical superiority in order to carry out difficult missions unharmed. Any piece of equipment that can give better awareness and vision of their surroundings is extremely valuable. In the urban battlefield where threats are closer and more unpredictable, 3D-ID peripheral and rear vision solutions are especially valuable.

The members of 3D-ID and their partners have spent many years developing three-dimensional solutions.
------------------------------------------------------------------------
MobileBio® FaceMatch® is a modular facial recognition platform technology that can be applied to a variety of platforms including smartphones, tablets, laptops and desktop computers. Depending on the number of cameras available and level of security desired, FaceMatch® uses advanced facial recognition algorithms to allow the user access to their device, data, or door.

The technology can be hosted on the device or configured to access cloud computing for remote authentication via NXT-ID's BioCloud® Authentication and Identity Management Services. The technology will also soon be available as an "app" on the iPhone and Android platforms.

One of the major areas of concern with facial recognition is user privacy with most companies utilizing private data for other marketing purposes. A FaceMatch® based facial recognition system can be customized to retain no personal information on the user as required to address any privacy issues.
-------------------------------------------------------------------------
MobileBio™ VoiceMatch™ is a modular voice recognition technology that can be applied to a variety of platforms including smartphones, tablets, laptops and desktop computers. VoiceMatch™ can be embedded into virtually any device, providing superior security via voice biometrics that ensures the identify of the user prior to allowing access.

For individuals who use a variety of devices where the identification of the specific individual is important, the MobileBio™ VoiceMatch™ biosensor can communicate with the intended device directly or remotely. Verification can be performed locally or through the BioCloud™ identity management and information assurance platform.

VoiceMatch™ can also be customized for a number of other applications including remote collection and transmission of biometric data by the Department of Justice and the Department of Defense. Passive authentication on local devices such as smartphones, laptops and digital wallets allows for convenient and non-intrusive access.

NOTE: All biosensor based products follow National Institute of Standards and Technology's (NIST) Special Publication 500-288 Specification for Web Service-Biometric Devices (WS-BD).
-------------------------------------------------------------------------
MobileBio™ BioCloud™ is a cloud-based identity authentication solution for consumer applications and enterprise security.

With NXT-ID's BioCloud™, users and corporations can now be assured secure access to their sensitive data through simple, effective identity authentication and secure encryption

MobileBio™ BioCloud™ authentication and identity management services provide biometric authentication, identity management, and secure remote access to a number of security critical operations such as online banking and mobile payments. This secure service supports financial institutions and corporations by minimizing capital expenditure on enterprise management security, and by providing essential end-to-end encryption of sensitive information. With the increased demand and use of mobile devices, MobileBio™ BioCloud™ provides advanced biometric authentication for users accessing corporate data and performing financial transactions from mobile devices.


---
Disclaimer
FN Media Group LLC (FNMG) owns and operates FinancialNewsMedia.com (FNM) which is a third party publisher that disseminates electronic information through multiple online media channels. FNMG's intended purposes are to deliver market updates and news alerts issued from private and publicly trading companies as well as providing coverage and increased awareness for companies that issue press to the public via online newswires. FNMG and its affiliated companies are a news dissemination and financial marketing solutions provider and are NOT a registered broker/dealer/analyst/adviser, holds no investment licenses and may NOT sell, offer to sell or offer to buy any security. FNMG's market updates, news alerts and corporate profiles are NOT a solicitation or recommendation to buy, sell or hold securities. The material in this release is intended to be strictly informational and is NEVER to be construed or interpreted as research material. All readers are strongly urged to perform research and due diligence on their own and consult a licensed financial professional before considering any level of investing in stocks. The companies that are discussed in this release may or may not have approved the statements made in this release. Information in this release is derived from a variety of sources that may or may not include the referenced company's publicly disseminated information. The accuracy or completeness of the information is not warranted and is only as reliable as the sources from which it was obtained. While this information is believed to be reliable, such reliability cannot be guaranteed. FNMG disclaims any and all liability as to the completeness or accuracy of the information contained and any omissions of material fact in this release. This release may contain technical inaccuracies or typographical errors. It is strongly recommended that any purchase or sale decision be discussed with a financial adviser, or a broker-dealer, or a member of any financial regulatory bodies. Investment in the securities of the companies discussed in this release is highly speculative and carries a high degree of risk. FNMG is not liable for any investment decisions by its readers or subscribers. Investors are cautioned that they may lose all or a portion of their investment when investing in stocks. This release is not without bias, and is considered a conflict of interest if compensation has been received by FNMG for its dissemination. To comply with Section 17(b) of the Securities Act of 1933, FNMG shall always disclose any compensation it has received, or expects to receive in the future, for the dissemination of the information found herein on behalf of one or more of the companies mentioned in this release. For current services performed FNMG has been compensated one thousand nine hundred dollars for news coverage of the press releases issued by NXT-Id, Inc. by the company.

This release contains "forward-looking statements" within the meaning of Section 27A of the Securities Act of 1933, as amended, and Section 21E the Securities Exchange Act of 1934, as amended and such forward-looking statements are made pursuant to the safe harbor provisions of the Private Securities Litigation Reform Act of 1995. "Forward-looking statements" describe future expectations, plans, results, or strategies and are generally preceded by words such as "may", "future", "plan" or "planned", "will" or "should", "expected," "anticipates", "draft", "eventually" or "projected". You are cautioned that such statements are subject to a multitude of risks and uncertainties that could cause future circumstances, events, or results to differ materially from those projected in the forward-looking statements, including the risks that actual results may differ materially from those projected in the forward-looking statements as a result of various factors, and other risks identified in a company's annual report on Form 10-K or 10-KSB and other filings made by such company with the Securities and Exchange Commission. You should consider these factors in evaluating the forward-looking statements included herein, and not place undue reliance on such statements. The forward-looking statements in this release are made as of the date hereof and FNMG undertakes no obligation to update such statements.