NXT-ID, Inc, (NASDAQ: NXTD) - May 21, 2015


NXT-ID, Inc Announces Participation as Member of Team Battelle for TIES Contract Award - See the Full Story Below the Following The SoundView Research News
NXT-ID, Inc. Research Note Update from SoundView; Commercial Ramp of Wocket Smart Wallet
"Our current IV estimate remains $8 for this year and would step up sharply to $17 in 2016 with continued success."
The full update is available for download here:
http://s3.amazonaws.com/Published_Research/NXT-ID_NXTD_SV_NOTE_MAY_2015_PUB.pdf
BOSTON, /PRNewswire/ -- SoundView Technology Group issues a new research note on the NXT-ID, Inc. (NASDAQ: NXTD) Wocket smart wallet (www.wocketwallet.com)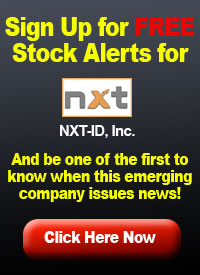 Company Update

Back in March we published an NXT-ID update note on the first "early access" Wockets shipping which allowed the company to gather feedback from field use. I had good success with my own Wocket even though it was a pre-release version which had a handmade prototype card that was too thick for some types of usage.

Sixty days later, NXT-ID is preparing to fulfill their existing pre-orders this month which will put several hundred units into the market. The plan for June is to ship a few thousand units to customers who have requested invitations to order a unit. By July, the company should reach their baseline production capability of 10,000 units/month, which will coincide with initiatives in marketing and sales as well as some new distribution partners who will help with market penetration and fulfillment.

What follows are some new usage notes for the commercial version and a restatement of our assumptions behind our model that supports an NXTD intrinsic value of $8/share for 2015 and path to $17 in 2016.

Using the New Wocket

I took my updated Wocket out for a spin and noticed a few additional features. First of all, the card is production quality and has my name on it. It's thin enough to put into any device from swipe to dip to full insertion, so I can use it in any scenario. There's also a subtle backlight, so it's easier to use in the dark which comes up in cabs and romantic restaurants.

There is one new minor feature that turned out to be a major benefit for me – the "note" option. I believe that this is a giant differentiator between the Wocket and "smart card" solutions like Coin. The Wocket has a place that effectively eliminates all those little slips of paper you often put in your wallet – like the access code for a gate you sometimes go through, the number for AAA and your membership number, your passport number, etc. These all fit into a class of information that is short, alphanumeric and seldom used. Yes, you can have all of this on your phone, but that's not the best place for it in terms of security or ease of access.

The day to day use of the card works just fine in all types of scenarios – we used both Visa and American Express credit cards, and a debit card too. Again, we found the awareness level of the technology in general "that's one of those cards you can store all your cards on." Where discussion ensued, the top issue was security. When I described the encryption, lack of network access, PIN and biometric identification, every person responded favorably across a broad demographic range. Anecdotally I'd say the older a person was, the more concerned they seemed to be with security and the more thrilled to feel that they could make their cards more secure with this kind of approach.

Not every reader works with the Wocket, so one does need to keep a single card along with your ID or license in the extra pocket. For example, my tennis club in NY is a small one with a reader literally taped to the counter and it wouldn't swipe the Wocket card even with several attempts. Our sample size isn't big enough to make specific predictions, but for us we had about a 9 out of 10 success rate. Not 100%, but for me good enough. It's worth noting that the design of the Wocket doesn't prevent it from eventually reaching the goal of 100% acceptance but it's not there yet.

Conclusion

NXTD investors have had to endure fairly high volatility as the shares surged on news of initial shipments and sagged as the company went into "heads down mode" to iron out the last bits for commercial production and get manufacturing scaled up to begin to deliver pre-orders.

In our March note, we pointed out the two remaining major risks as the production ramp and consumer reaction/adoption. Now that we have a production unit in our hands and pre-orders are to be filled this month, the production ramp risk is fading away and the focus will now shift to consumer adoption.

Fortunately, NXTD is not alone in their enthusiasm for the Wocket. Ever since CES in January, there has been strong and steady interest from a range of distribution partners. We expect the ramp in marketing in the July timeframe will coincide with one or more of the smaller partners helping the Wocket to reach more consumers.

We remain comfortable with our 40,000 unit assumption for 2015, which we will revise if the company succeeds in reaching close to 10,000 units in July or August. Aggregating a number of market data points, there is initial demand from early adopters for something like 100,000 to 200,000 units right now, and this number will increase as more people see, feel and use the technology.

Despite a few delays, the company performance is consistent with our existing IV model shown below and we are not making any changes to it yet. Our current IV estimate remains $8 for this year and would step up sharply to $17 in 2016 with continued success.

We do plan to break down our volume and revenue estimates into quarterly periods so we can compute annual trajectory more accurately. Based on current plans, NXT-ID should be able to produce close to 30,000 units in Q3 and even more in Q4. Obviously, if the demand is adequate, they would greatly exceed our current 40,000 unit target for the year.
NXT-ID, Inc Announces Participation as Member of Team Battelle for TIES Contract Award
SHELTON, Conn., (PR Newswire) - NXT-ID, Inc. (NASDAQ:NXTD) - announces that its wholly owned subsidiary, 3D-ID LLC, a company engaged in biometric identification is an official contractor under Team Battelle for the biometrics technology portion of the recently awarded TIES (Technical Information Engineering Services) Unrestricted Suite Contract from the Department of the Army.

3D-ID LLC has a suite of 3D facial recognition products developed for government, law enforcement and security agencies.

Gino Pereira, Chief Executive Officer said, "We are very proud to be part of Team Battelle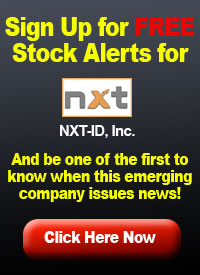 and contributing our expertise in biometric technologies. This award is the culmination of 2 years hard work by many parties involved. Although the Company's primary focus has been on our biometric smart wallet, the Wocket®, currently being shipped to our pre-order customers, we have continued to develop opportunities for our core biometric products. We look forward to supporting Battelle on future task orders. "

The contracts were awarded on 08 May 2015, and include nine total awardees. The estimated total contract value of the entire TIES program is $994M. This IDIQ contract will be Task Order driven and Task Orders under the Unrestricted Suite will be issued on a Full and Open Competition Basis among all nine Awardees.

The work conducted under TIES will span multiple areas of interest supporting the Information and Intelligence (I2WD) mission including Biometric Enabled Intelligence (BEI). I2WD is the Intelligence and Information Warfare Directorate which is part of the US Army's Communication's-Electronics Research, Development and Engineering Center (CERDEC).

About Battelle

Every day, the people of Battelle apply science and technology to solving what matters most. At major technology centers and national laboratories around the world, Battelle conducts research and development, designs and manufactures products, and delivers critical services for government and commercial customers. Headquartered in Columbus, Ohio since its founding in 1929, Battelle serves the national security, health and life sciences, and energy and environmental industries. For more information, visit www.battelle.org.

See more at: http://www.battelle.org

About NXT- ID Inc. - Mobile Security for a Mobile World: (NXTD)

NXT-ID, Inc.'s innovative MobileBio® solution mitigates consumer risks associated with mobile computing, m-commerce and smart OS-enabled devices. The company is focused on the growing m-commerce market, launching its innovative MobileBio® suite of biometric solutions that secure consumers' mobile platforms led by Wocket®; a next generation smart wallet designed to replace all the cards in your wallet, no smart phone required. Wocket was recognized as one of the top technology products at CES 2015 by multiple media outlets including Wired.com. The Wocket works anywhere credit cards are accepted and only works with your biometric stamp of approval. http://www.wocketwallet.com/

NXT-ID' wholly owned subsidiary, 3D-ID LLC, is engaged in biometric identification and has 22 licensed patents in the field of 3D facial recognition http://www.nxt-id.com/, http://3d-id.net/

Forward-Looking Statements for NXT-ID: This press release contains forward-looking statements within the meaning of the Private Securities Litigation Reform Act of 1995. Forward-looking statements reflect management's current expectations, as of the date of this press release, and involve certain risks and uncertainties. Forward-looking statements include statements herein with respect to the successful execution of the Company's business strategy. The Company's actual results could differ materially from those anticipated in these forward-looking statements as a result of various factors. Such risks and uncertainties include, among other things, our ability to establish and maintain the proprietary nature of our technology through the patent process, as well as our ability to possibly license from others patents and patent applications necessary to develop products; the availability of financing; the Company's ability to implement its long range business plan for various applications of its technology; the Company's ability to enter into agreements with any necessary marketing and/or distribution partners; the impact of competition, the obtaining and maintenance of any necessary regulatory clearances applicable to applications of the Company's technology; and management of growth and other risks and uncertainties that may be detailed from time to time in the Company's reports filed with the Securities and Exchange Commission.

NXT- ID Inc Contact:
Corporate info: info@nxt-id.com

Investors:
investors@nxt-id.com

Media:
D. Van Zant
800 665-0411
press@nxt-id.com

To view the original version on PR Newswire, visit:http://www.prnewswire.com/news-releases/nxt-id-inc-announces-participation-as-member-of-team-battelle-for-ties-contract-award-300086359.html

SOURCE NXT-ID, Inc.
---
Disclaimer
FN Media Group LLC (FNMG) owns and operates FinancialNewsMedia.com (FNM) which is a third party publisher that disseminates electronic information through multiple online media channels. FNMG's intended purposes are to deliver market updates and news alerts issued from private and publicly trading companies as well as providing coverage and increased awareness for companies that issue press to the public via online newswires. FNMG and its affiliated companies are a news dissemination and financial marketing solutions provider and are NOT a registered broker/dealer/analyst/adviser, holds no investment licenses and may NOT sell, offer to sell or offer to buy any security. FNMG's market updates, news alerts and corporate profiles are NOT a solicitation or recommendation to buy, sell or hold securities. The material in this release is intended to be strictly informational and is NEVER to be construed or interpreted as research material. All readers are strongly urged to perform research and due diligence on their own and consult a licensed financial professional before considering any level of investing in stocks. The companies that are discussed in this release may or may not have approved the statements made in this release. Information in this release is derived from a variety of sources that may or may not include the referenced company's publicly disseminated information. The accuracy or completeness of the information is not warranted and is only as reliable as the sources from which it was obtained. While this information is believed to be reliable, such reliability cannot be guaranteed. FNMG disclaims any and all liability as to the completeness or accuracy of the information contained and any omissions of material fact in this release. This release may contain technical inaccuracies or typographical errors. It is strongly recommended that any purchase or sale decision be discussed with a financial adviser, or a broker-dealer, or a member of any financial regulatory bodies. Investment in the securities of the companies discussed in this release is highly speculative and carries a high degree of risk. FNMG is not liable for any investment decisions by its readers or subscribers. Investors are cautioned that they may lose all or a portion of their investment when investing in stocks. This release is not without bias, and is considered a conflict of interest if compensation has been received by FNMG for its dissemination. To comply with Section 17(b) of the Securities Act of 1933, FNMG shall always disclose any compensation it has received, or expects to receive in the future, for the dissemination of the information found herein on behalf of one or more of the companies mentioned in this release. For current services performed FNMG has been compensated one thousand nine hundred dollars for news coverage of the current press release issued by NXT-Id, Inc. by the company.

This release contains "forward-looking statements" within the meaning of Section 27A of the Securities Act of 1933, as amended, and Section 21E the Securities Exchange Act of 1934, as amended and such forward-looking statements are made pursuant to the safe harbor provisions of the Private Securities Litigation Reform Act of 1995. "Forward-looking statements" describe future expectations, plans, results, or strategies and are generally preceded by words such as "may", "future", "plan" or "planned", "will" or "should", "expected," "anticipates", "draft", "eventually" or "projected". You are cautioned that such statements are subject to a multitude of risks and uncertainties that could cause future circumstances, events, or results to differ materially from those projected in the forward-looking statements, including the risks that actual results may differ materially from those projected in the forward-looking statements as a result of various factors, and other risks identified in a company's annual report on Form 10-K or 10-KSB and other filings made by such company with the Securities and Exchange Commission. You should consider these factors in evaluating the forward-looking statements included herein, and not place undue reliance on such statements. The forward-looking statements in this release are made as of the date hereof and FNMG undertakes no obligation to update such statements.