Breaking News Coverage for NXT-ID, Inc., (NXTD: OTCQB) - October 16, 2013
Last Trade: $
Change:
Open: $
High: $
Low: $
Volume:
Company Snapshot
NXT-ID, Inc.

One Reservoir Corporate Centre
4 Research Drive
Suite 402
Shelton, CT 06484

www.nxt-id.com

Officers:
Gino Pereira CEO, CFO
David Tunnell CTO
Tel: (203)242-3076

Sector: Services
Ticker Symbol: NXTD
Exchange: OTCQB
Shares Outstanding: 21,440,600

Float: APX 1,380,600 +/-

52 Week Low: $1.10
52 Week High: $4.46

NXTD SMS Alerts
Never miss news alerts from
NXTD -

Text PRESS to 545454 for
Free News Alerts

NXT-ID (NXTD) - Mobile-Bio Technology Holds the Key to Mobile Commerce

"...a conservative intrinsic valuation (IV) model show a fair value of $10.90 per share..."

BOSTON, MA--(Oct 15, 2013) - SoundView Technology Group: New report highlights an emerging technology company, NXT-ID (OTCQB: NXTD), as a provider of "Mobile-Bio" technology to enable mobile commerce industry-wide.

The lack of robust security is one of the chief obstacles holding this market back. Technology leaders like Apple have been making acquisitions (like AuthenTec for $350M in July of 2012) and filing patents to attempt to provide some of these features on the iPhone.
Get News Alerts & Stock Updates for NXT-ID delivered directly to your Mobile Phone. Text PRESS to 545454 (News alerts are free; however standard message & data rates may apply. Check with your carrier for more details.)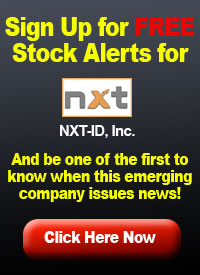 Passwords have become the joke of the information security industry since they offer no real protection in most cases. Biometric techniques must incorporate multiple factors to be secure and easy to use. Combinations of fingerprint, facial recognition, voice and big data analysis will be the essence of future secure consumer systems, for mobile in particular.

NXT-ID (NXTD) had developed a platform of "Mobile-Bio" technologies the address the needs of this market which include:

1. Mobile-Bio FaceMatchTM - 2D, 3D and pseudo-3D methods to perform facial recognition.

2. The WocketTM - a new class of biometrically secure mobile devices designed to replace the traditional wallet.

3. Mobile-Bio SensorTM - a simple, web-enabled, biometric-enabled external device that is used for local authentication and remote authentication with the BioCloud and/or remote servers.

4. VoiceMatchTM - a unique biometric-enabled method to add multi-factor biometric identifiers (both speech and speaker recognition) to Dynamic Pairing Codes using a simple low-power embedded processor on an external device.

5. Mobile BioCloudTM - a cloud-based end-point (authentication service) to authenticate any "end-point" along a communication path, including external biosensors.

According to the authors of this report, Stephen Waite and Kris Tuttle, "NXT-ID biometric security products target a broad market opportunity space that includes m-commerce, enterprise, law enforcement, defense and Homeland Security."

NXT-ID is an early stage technology company going after a large market. Based on initial traction and a conservative intrinsic valuation (IV) model show a fair value of $10.90/share we see the company continuing to benefit from intensive investor attention to this space.

Our full report is available here: http://s3.amazonaws.com/Published_Research/NXT-ID_NXTD_Report_Oct_15_2013.pdf

About SoundView Technology Group
We are an independent advisory and research firm specializing in emerging technologies as they reach commercialization. Our proprietary research and modeling work provides valuable information for company management teams and investors in these emerging opportunities. We regularly publish our findings across a variety of channels including all the major retail and institutional information outlets. SoundView is based in Boston, Massachusetts with locations in New York and Connecticut.

Disclosures
SoundView analysts do not receive compensation for their research opinions, any specific views or conclusions. They are tasked to provide fact-based research with sound analysis. SoundView does not provide investment advice or make "buy/sell/hold" recommendations. Nor do we provide investment banking or brokerage services. We act as a publisher of our own research work and are responsible for all content. From January 2013 to July 2013 SoundView provided paid advisory services NXT-ID on their business plans, company description and investor positioning.

About NXT-ID, Inc., (NXTD: OTCQB)

The founders of NXT-ID were an integral part of the senior management teams at Technest Holdings, Inc., and its subsidiary Genex Technologies. Genex Technologies was founded in 1995 to develop and commercialize the unique Rainbow® method of capturing 3D data. Since its founding Genex has developed into one of the market leaders in advanced imaging, including 3D and 360-degree technologies.

Genex has developed innovative technologies and products for all aspects of imaging, including capture, processing, display, and
enhancement. Genex's products range from 3D cameras to surveillance algorithms to integrated facial recognition systems. Genex and Technest have won awards from the Department of Defense, NIH, NIST and NSF amounting to over $30 million in support of this technology.

NXT-ID has licensed all the Technest /Genex technology (exclusively in many markets) to provide a product portfolio and a strong technical foundation for its further development efforts. In addition, NXT-ID has also licensed patents and know-how from the shareholders of Geometrix, Inc., a leading 3D imaging company using a different technical approach to Technest. This technology performed very favorably at the Face Recognition Vendor Test conducted by the National Institute of Science and Technology (NIST). NXT-ID also has key scientific and engineering personnel that have had key roles in the development of these technologies and have an important intellectual knowledge base that the Company intends to leverage.

Adding to this large IP portfolio, NXT-ID is vigorously pursuing new patents in its new MobileBio™ technologies.

---

MobileBio™ facematch™ is a modular facial recognition platform technology that can be applied to a variety of platforms including smartphones, tablets, laptops and desktop computers. Depending on the number of cameras available and level of security desired, facematch™ will use 2D, pseudo 3D or 3D facial recognition algorithms to allow the user access to their device, data, or door.
facematch™ supports both 3D and 2D camera devices, supporting various applications such as adding access control to a door or prison to adding superior authentication and/or encryption to a mobile device. The technology can be hosted on the device or configured to access cloud computing for remote authentication via NXT-ID's biocloud™ Authentication and Identity Management Services. The technology will also soon be available as an "app" on the iPhone and Android platforms.

One of the major areas of concern with facial recognition is user privacy with most companies utilizing private data for other marketing purposes. A facematch™ based facial recognition system can be customized to retain no personal information on the user as required to address any privacy issues.

Now banks, consumers, prisons, enterprises and virtually any computing platform can be secured passively, without obtrusive biometric devices such as fingerprint readers using innovative facematch™ from NXT-ID. Contact us to learn more how facematch™ can be customized to meet your security needs.

---

MobileBio™ voicematch™ is a modular voice recognition platform technology that can be applied to a variety of platforms including smartphones, tablets, laptops and desktop computers. voicematch™ can be added to virtually any device to embed superior security via voice recognition biometrics that ensure the identify of the user prior to allowing access.

For individuals that use a variety of secure devices where the identification of the specific individual is important, the MobileBio™ voicematch™ biosensor can communicate with the intended device directly or remotely. The voicematch™ biosensor is the world's first "web enabled" biometric device that can connect physically or wirelessly. Verification can be performed locally or through cloud based identity management and information biocloud™ assurance services. This device will also help to secure one aspect of "BYOD" (Bring your own device) computing, which is a growing concern among corporations where individuals are using their personal smartphones, tablets and computers to connect to their company's IT servers. Connection to devices using this web-ready biosensor may be made through USB or by wireless interface.

voicematch™ can also be customized for a number of other applications including remote collection and transmission of biometric data by the Department of Justice and the Department of Defense. Other applications include simple, passive authentication local to devices so users may add security to various mobile platforms such as smarphones, laptops and digital wallets.

----

MobileBio™ biocloud™ is a cloud-based identity authentication solution for consumer applications and corporate security. MobileBio™ biocloud™ Authentication and Identity Management Services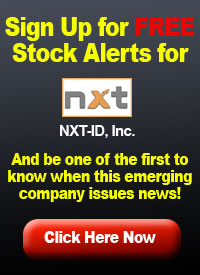 provide biometric authentication, identity management, and secure remote access to a number of standard operations such as online banking and mobile payments. This secure service alleviates financial institutions and corporations from billions invested in enterprise security management by providing essential end-to-end security to sensitive consumer information that is more easily accessible now, due to the increased use of mobile devices to remotely access corporate data and perform financial transactions from mobile devices.

With NXT-ID's biocloud™, users and corporations can now be assured secure access to their sensitive data through simple, effective identity authentication and secure encryption.

----

The world of wallets is about to change. New exciting technologies are making payments easier than ever. However, many credit card holders either do not possess a smartphone or will be reluctant to use their smartphone for mobile payments due to a variety of reasons including:

Limited battery life
Dependency on wireless network coverage
Well publicized security threats

Rather than depend on a potentially unreliable cell phone, NXT-ID introduces a truly next generation digital wallet: the wocket™. This unique technology takes a very different approach: Instead of replacing the wallet, we are improving it! Our innovative wocket™ reduces the number of cards in your wallet while supporting virtually every payment method currently available at Point-of-Sale (POS) at retailers around the world including magnetic stripe, EMV/NFC and barcode…all within a secure vault within your wallet.
.



Recent NXT-ID, Inc., (NXTD: OTCQB) News Releases

NXT-ID Inc. Provides Update on the Wocket(TM) and 3D FaceMatch(TM) Systems

Biometric Mobile Commerce Company NXT-ID, Inc. Appoints New Director With CTO, CIO and COO Experience at Major E-Commerce and Social Consumer Brands

Information to Be Available Through S&P Capital IQ Corporation Records Program for Biometric Company NXT-ID, Inc.

Biometric Company NXT-ID, Inc. Launches Pilot Program for Palm Bay, FL Police Department

Biometric Mobile Commerce Company NXT-ID, Inc. Commences Trading on OTCQB





FN Media Group LLC (FNMG) owns and operates FinancialNewsMedia.com (FNM) is a third party publishing provider which disseminates electronic information through multiple online media channels. FNMG's intended purposes are to deliver market updates and news alerts issued from private and publicly trading companies as well as providing coverage and increased awareness for companies that issue press to the public via online newswires. FNMG and its affiliated companies are a news dissemination and financial marketing solutions provider and are NOT a registered broker/dealer/analyst/adviser, holds no investment licenses and may NOT sell, offer to sell or offer to buy any security. FNMG's market updates, news alerts and corporate profiles are NOT a solicitation or recommendation to buy, sell or hold securities. An offer to buy or sell can be made only with accompanying disclosure documents from the company offering or selling securities and only in the states and provinces for which they are approved. The material in this release is intended to be strictly informational and is NEVER to be construed or interpreted as research material. All readers are strongly urged to perform research and due diligence on their own and consult a licensed financial professional before considering any level of investing in stocks. The companies that are discussed in this release may or may not have approved the statements made in this release. Information in this release is derived from a variety of sources that may or may not include the referenced company's publicly disseminated information. The accuracy or completeness of the information is not warranted and is only as reliable as the sources from which it was obtained. While this information is believed to be reliable, such reliability cannot be guaranteed. FNMG disclaims any and all liability as to the completeness or accuracy of the information contained and any omissions of material fact in this release. This release may contain technical inaccuracies or typographical errors. It is strongly recommended that any purchase or sale decision be discussed with a financial adviser, or a broker-dealer, or a member of any financial regulatory bodies. Investment in the securities of the companies discussed in this release is highly speculative and carries a high degree of risk. FNMG is not liable for any investment decisions by its readers or subscribers. Investors are cautioned that they may lose all or a portion of their investment when investing in stocks.

This release is not without bias, and is considered a conflict of interest if compensation has been received by FNMG for its dissemination. To comply with Section 17(b) of the Securities Act of 1933, FNMG shall always disclose any compensation it has received, or expects to receive in the future, for the dissemination of the information found herein on behalf of one or more of the companies mentioned in this release. For current services performed FNMG has been compensated two thousand six hundred dollars for news coverage. FNMG HOLDS NO SHARES OF NXT-ID, Inc., (NXTD: OTCQB)

This release contains "forward-looking statements" within the meaning of Section 27A of the Securities Act of 1933, as amended, and Section 21E the Securities Exchange Act of 1934, as amended and such forward-looking statements are made pursuant to the safe harbor provisions of the Private Securities Litigation Reform Act of 1995. "Forward-looking statements" describe future expectations, plans, results, or strategies and are generally preceded by words such as "may", "future", "plan" or "planned", "will" or "should", "expected," "anticipates", "draft", "eventually" or "projected". You are cautioned that such statements are subject to a multitude of risks and uncertainties that could cause future circumstances, events, or results to differ materially from those projected in the forward-looking statements, including the risks that actual results may differ materially from those projected in the forward-looking statements as a result of various factors, and other risks identified in a company's annual report on Form 10-K or 10-KSB and other filings made by such company with the Securities and Exchange Commission. You should consider these factors in evaluating the forward-looking statements included herein, and not place undue reliance on such statements. The forward-looking statements in this release are made as of the date hereof and FNMG undertakes no obligation to update such statements.